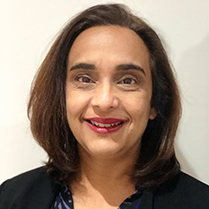 Dr Shreeti Patel
Practice Limited to Endodontics
BDS LLM MSc (Endodontics) DGDP(UK)
GDC No. 65924
Shreeti qualified from Birmingham University in 1990. Having completed her Foundation Training, she worked in NHS practice in Oxford, before moving to private general practice in Berkshire.
Completing her Masters in Endodontics at the prestigious Guys Dental Hospital in 1999, Shreeti has since limited her practice to Endodontics. She currently works in Berkshire and Oxfordshire practices accepting in-house and external referrals.
Shreeti also worked as a Senior Dental Officer in Endodontics in Community Dental Services for a London Trust before joining Dental Protection in 2014 and working as a Dento Legal Adviser. She recently completed her master's in Medical Law and Ethics from the De Montfort University. Her dissertation was based on consent and regulation of endodontic treatment.
Currently, Shreeti continues with her medico-legal work supporting dentists, whilst maintaining her clinical practice.
Outside of work, Shreeti is married to a Dentist and has three children which keep her remarkably busy, any spare time she does have is taken up with creative hobbies.
At Westwood Dental, our experienced Dentist Dr Shreeti Patel can carry out advanced endodontic treatments to optimise your dental health.
Back to Our Team